Two things are more or less bound to happen once a group of people dehumanizes another one, beyond their exploitation.
One: they simply become objects, as opposed to human beings, and therefore their any human trait becomes inconceivable, simply out of bound. Take this, for instance: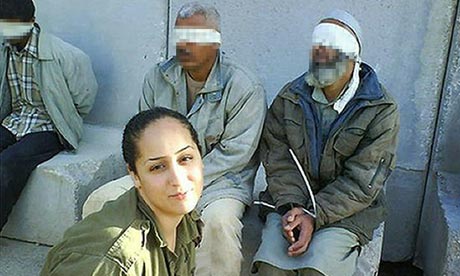 Which of course, is highly reminiscent of this:
In both cases, the photos are posed like vacations photos. The bodies are mere props in the background of a kind "we're having so much fun" photo.
The top photo portrays an Israeli soldier, with Palestinian prisoners in the background, the one below is one of the infamous Abu Ghraib photos.
The dehumanization is so complete that, in both cases, the soldiers posing for the photo were shocked when confronted with the dehumanizing nature of the picture. Take the Israeli soldier:
"A former Israeli soldier who posed for pictures with Palestinian detainees and posted them on her Facebook page defended her actions today, as more images emerged of Israeli service personel posing alongside blindfolded detainees and dead bodies.

"I still don't understand what I did wrong," Eden Abergil told Israeli army radio. Abergil, a reserve officer with the Israeli army who completed compulsory military service last year, provoked outrage over photographs in which she posed next to handcuffed, blindfolded Palestinians.

She told army radio: "There's no violence or intention to humiliate anyone in the pictures. I just had my picture taken with them in the background. I did it out of excitement, to remember the experience. It wasn't a political statement or any kind of statement. It was about remembering my experiences in the army and that's it.""
There is no intention to humiliate not because of empathy but because these people are no longer seen as human beings. Similar excuses were used by the soldiers portrayed on the Abu Ghraib photos.
And when people are no longer seen as human but as beasts of burden, then, atrocious mistreatment is almost guaranteed to follow:
"Doctors have removed 13 nails and five needles from a Sri Lankan maid who said her employers in Saudi Arabia had hammered them into her.

LG Ariyawathi, who returned home from Saudi Arabia on Saturday and was hospitalised in severe pain, said the family she worked for had punished her by heating the nails and needles and sticking them into her.

X-rays showed she had 24 nails and needles in her body, said Dr Keerthi Satharasinghe, of Kamburupitiya hospital. The nails ranged in length from 2.5 to 5cm (one to two inches), and the needles were about 2.5cm. They were removed from Ariyawathi's legs and forehead.

"The surgery is successful and she is recovering now," Satharasinghe said after a three-hour procedure. He said six more needles in her hands could not be removed because the operation might damage her nerves and arteries, but they would not be harmful to her.

Ariyawathi, 49, has described the abuse meted out by her employers. "They did not allow me even to rest. The woman at the house had heated the nails and then the man inserted them into my body," she was quoted as saying by the Lakbima newspaper.

She said she went to Saudi Arabia in March and was paid only two months' salary, with her employer withholding the rest to buy an air ticket to send her home.

About 1.5 million Sri Lankans work abroad, many as maids or drivers, to earn more than they can in their own country. Nearly 400,000 work in Saudi Arabia."
The story of exploitation and state of quasi-slavery of domestic workers in Saudi Arabia is not new.
In all these cases, the ethnic differences between the dominant and subordinate groups make their dehumanization easier. Whether the dehumanized category become invisible objects or beasts of burden to be worked as hard as inhumanely possible, symbolic and physical degradation are logical outcomes.